Rost Productions is a collaboration of Associate Artists under the Artistic Direction Jessica Rost.
Jessica is a sculptor, a mixed media artist and a keen environmentalist who works with many different materials. In her sculptural practice she largely works with reclaimed metal and found objects; a skilled metal worker, she loves the processes and the malleable  possibilities of ferrous material as well as themutable qualities of natural materials.
Her sculpture is often kinetic: large scale structures, Art-bikes, car sculpture, site-specific or interactive. The performance, intervention or participatory and sculptural elements are devised hand-in-hand.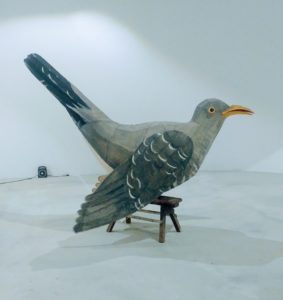 "Jessica exudes her creativity, passion and wild personality into all her projects.  She creates work that wows audiences and brings imagination to life.  Her skills in idea creation and creature building is unmatched in the region"

Lucy Bedford, Executive Director, the Stables
​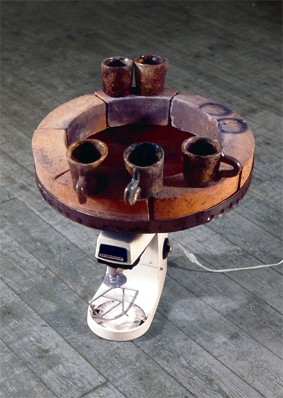 Jessica is due to  take up a place at University of Leeds to study an MA in Fine Art where she will continue to develop her sculpture practice over the next year.
Over the course of this year Jessica has presented a series of new kinetic sculpture pieces as part of a series of one-day gallery takeovers by the newly formed exhibiting group, Digital & Electronic Arts.
Undercurrent – Contemporary Arts was the first of these one day exhibitions at NN Contemporary Art, Northampton.
2018 saw the creation of a new body of work for a group exhibition, '2nd Point of Contact', alongside artists Emma Talbot and Claire Summerson, shown at Milton Keynes Museum as part of MK Festival Fringe.
I enjoy uncovering connections between everyday, found or discarded materials and linking them to unfolding human stories or my own emotional/internal narrative. This narrative has been around tolerance/intolerance, understanding and misunderstanding of one another, bio-diversity and cohabitation. These interconnections are implied on an individual, political and universal level in my work.  I have always had an interest in the inherent or residual power of materials, especially that contained within found objects. I'm intrigued by the way archetypal symbols can transfer subliminally into everyday stories or narratives; somehow impacting our decisions or helping to decode our lives, and continually guiding us on our different journeys.
You can see more of Jessica's Sculpture and Installation work here