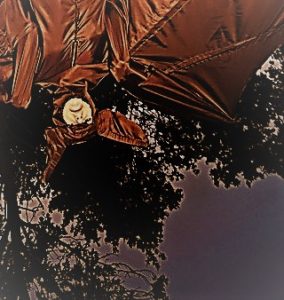 Becoming Batty is a new live performance piece created by Jessica Rost.
It will be performed on Sunday 8th March, 2pm, The Tetley, Leeds as part of Print, Perform Present.
You can watch a film of the piece being performed at Common Ground, Blackburn, here.
Developed from a poem written by the artist, Becoming Batty performance tries to define the distances we maintain between each other, between other creatures and other things. But also the illusion of separation which makes us think we are exceptional.
Batty is about an inability to empathize, or the importance of empathy and the imagination, in our becomings with others; other creatures and other things. The artist performs on stilts to a sound track of spoken word – distancing herself from the audience.
If we can imagine beyond our own singular experiences, we can realise our inter-connections, our shared biology, our shared histories, see with clear eyes and truly listen.
Batty represents all the 'others'; the outcasts, misfits, mis-understoods, the unvoiced and the unheard ones.
The piece is available to book for events and gatherings. Please email: jessica@jessicarost.co.uk if you are interested.