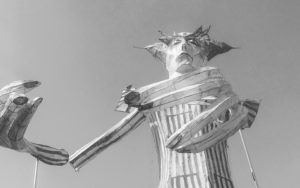 At the beginning of this year I was commissioned to create a 30ft high Mean Spirit which was to be set alight at the Annual Flamboyance -an outdoor event produced by fellow collaborator Nick Garnett of the Annual Daydream Harvest.
The 'Meany' was to be articulated with a turning head mechanism, operated from 20ft below, and arms that could be puppeteered as well.
Once the moving parts and welding work was done at the workshop in Milton Keynes, the frame was taken to the John Madejsky Academy in Reading where students helped to put flesh on the giant using willow and other combustible material.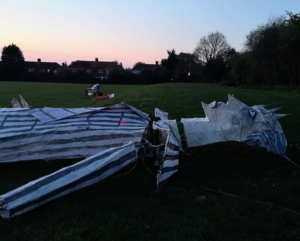 An amazing volunteer team from Rising Sun Arts Centre worked with me on the production; helping finish the make and loading the giant with fire rope and gerbs!!
They became the crew: pyro-technicians and puppeteers  on the project and it was a real privilege to work with them.
The event itself was part of a sequence of annual events called Flamboyance. This edition was: 'Flamboyance- turning the world upsidown'. It was completely anarchic -as is to be expected from Annual Daydream Harvest associate artistic director and long term co-collaborator Nick Garnett!
Whilst the young people were parading the streets of Whitley, in the most extraordinary contraptions and costumes – with amazing musical accompaniment from Tim Hill and others- the Meany team were preparing the finale in Rabsons rec…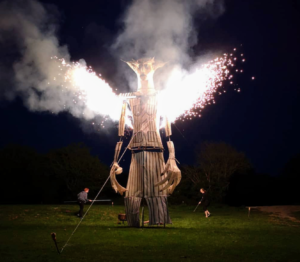 The music changed and the vibe became menacing… "Go home" boomed the Mean Spirit. "Stop having fun!" he boomed again with his arms flaying around. The young people threw love and happiness at him but he was still mean."Banish him," they began to chant, "banish him!"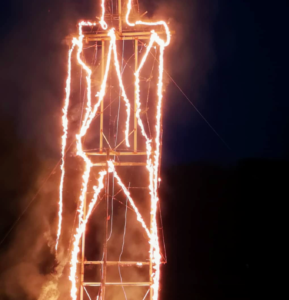 Red smoke bombs were deployed, the fireworks were ignited, the fire rope was lit and the big Meany succumbed to his fate…
By the time the fire brigade arrived he was nothing more than an ashen metal frame again!!