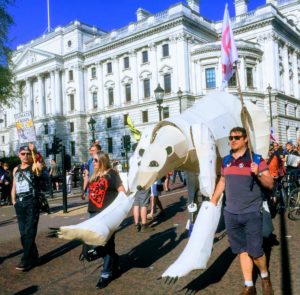 Soon after being part of the declaration of the Extinction Rebellion (XR) in Parliament Square last October, I was commissioned by Handmade Parade, an incredible company based in Hebden Bridge, to create a giant puppet for Lamplighter Festival in Todmorden.
Their theme was circus and at the time I remember feeling very torn -It was the week of the bridges and I was ready to sit in the road with the rebels for as long as it took!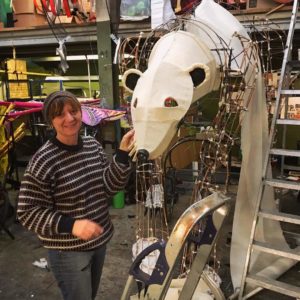 There wasn't a big budget and I wanted to do the commission, (Handmade Parade is a real pleasure to work with -they are like family) but it had to be 'un-circus', it had to be a polar bear and I wanted to share the puppet with the company afterwards.
(You can read more about my time making Eva in Hebden Bridge here.)
It was agreed and in my mind I knew then that Eva the bear would become part of the rebellion, it was just a matter of when and where.
After that I got very busy with other projects. It's pretty precarious trying to earn a living as an artist at the best of times- work has to be taken as and when it comes in. Every time I went to my workshop I looked at Eva the Ice bear filling the space, so ready to rise up and roar for the cause! "Please take me out", she seemed to be telling me.
I knew I couldn't do it alone -logistically she needed a van and at least one other person and I didn't have a van! I had recently lost my whole company, everything, I was starting out again as Rost Productions a completely new thing… I was also re evaluating my life, my work, everything, (as many of us are), asking myself how I can scale down, make my practice more sustainable, reduce my carbon foot print etc.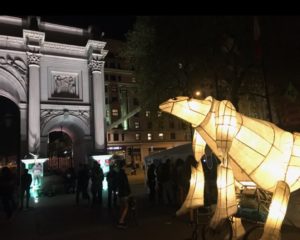 As it happens I know first hand how frustrating and often ineffectual politics can be. I was brought up by politicians; my father was a member of Parliament from 1970-1990's. A long standing Member of the Energy Select Committee, he was banging on about renewables, combined heat and power, global warming etc. 30 or 40 years ago! I watched his frustration and his life's work falling on deaf ears, years wasted by a system of government that wasn't listening to the experts -except when it suited them for political gains. It is a system that promotes the game players and not those with any integrity or those who are telling the truth. I've been half involved in many protests over the years myself but knowing how futile these battles are against the self interests of the system I found it difficult to take myself off the fence.
The theory and the real power of non-violent protest had never been explained to me before…how a relatively small group of people peaceably braking the law had in the past really changed things: the suffragettes braking windows, the civil rights and gay rights movements, Ghandi and others -their actions had changed things and the new cognitive culture that they helped to create had become the new norm.  XR felt totally different and for the first time I thought this is actually possible!
"…where despair ends and tactics begin"!
By February this year I had begun to get more involved with my local XR affinity group in Milton Keynes and agreed to host some arty making sessions at my workshop. I was so overwhelmed by the support and the motivation of people who got involved.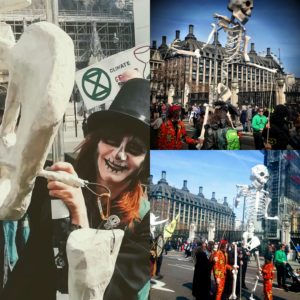 We made a massive skeleton -Shelly the Skelly -who was designed to be carried on the train and through the underground. Shelly was able to pop-up big -5m or so- anywhere we could carry her to. It was a useful challenge and a tester for the kind of future work I hope to create.
I became linked up with an XR Skelly group coordinated by the brilliant Kat and I felt like at last I was able to give something to this important cause. But it was also an amazing way to meet so many like minded people, some of whom happened to live really near me -who'd have thought! This is one of the most brilliant things that the XR movement has done -brought people together. The members of my local XR team carried the parts of Shelly down to London on the train and then we defiantly paraded her around Parliament Square.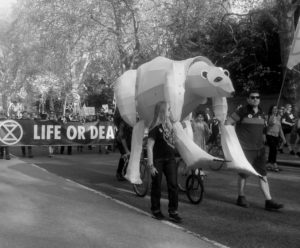 The rebellion was well underway when I left London again, bringing Shelly the Skelly back home. I only had a day turnaround before setting off to do an event in Reading for the week…and there was Eva in the workshop as usual; "If not now then when? I was made for this rebellion, please take me to London", she whispered.
Returning from Reading after midnight on Easter Saturday from an exhausting gig, having stilt walked for 3 hours and set fire to a 30ft effigy of a Mean Spirit, I was ready for action and so was Eva the Ice bear!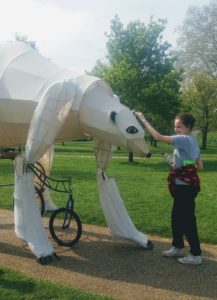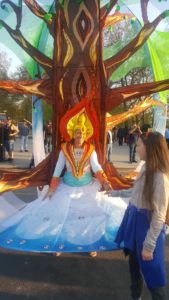 With fellow artist and amazing rebel, Emma, who'd return with me from Reading, we headed up to my workshop on Easter Sunday and loaded Eva and Emma's giant Earth costume into a van. We didn't really have a plan -at least not one that didn't keep changing! So I just set the controls (sat nav.) to the heart of the sun!  (Parliament Square) and we were off.
By the time we got near we had been in contact with an XR driver who was able to meet us and take the van off our hands.
Rebels met us, helped us to rig, put on costumes and with quite a bit of difficulty we managed to steer around the troublesome police officers who began to target Eva as we turned the corner towards the square…
Eva spent two amazing days rebelling in London, marching from road block to road block, from Parliament to Marble Arch. She listened to some really inspiring speakers, gained tonnes of admirers and met some incredible people. What a beautiful, hopeful vibe we rebels created -if this is the future bring it on!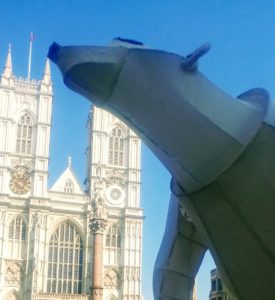 Eva's looking forward to returning to the cause soon… maybe with Hugh, the cycle-powered Mammoth, who'll be made of plastic nets?  I'm in the midst of creating him now so keep all your onion bags for me please!
You can follow Eva the ice bear on twitter where she now has her own account! And you can find out more about the Extinction Rebellion online.