Exhibition of new sculpture for group show at Milton Keynes Festival Fringe:
In August 1993 three recent Fine Art graduates; Claire Summerson, Emma Talbot and Jessica Rost, all from Birmingham School of Art, put on their first group exhibition at The City Discovery Centre in Milton Keynes, where one of the artists, Clare, had a studio.
Point of Contact was an exhibition of new work: paintings, sculpture and installation displayed in and around the Cruck Barn at Bradwell Abbey. Following the exhibition both Claire and Jessica became active members of The Silbury group of Artists in Milton Keynes throughout the late 90's.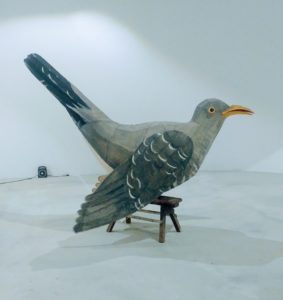 Emma Talbot gained a place at the RCA. She now exhibits her work internationally and has recently been appointed Tutor in Painting at the RCA.
Clare Summerson relocated to Cornwall and is Co-founder of the Day-Light group putting on spectacular outdoor participatory and commissioned work. She is based at Krowji Redruth, where she continues to make site-specific mixed media work.
Jessica Rost remained in Milton Keynes organising international artist exchanges and residencies at Westbury Farm. She went on to found Festive Road and to set up the MK Festival Fringe. She now works nationally as a freelance producer and director of street theatre and sculpture.
2nd Point of Contact will see these three artists come together once again to exhibit in a group show at Milton Keynes Museum.
The exhibition will be open everyday from 12th until 19th July.