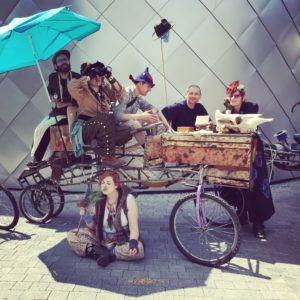 Rost Productions is a collaboration of Associate Artists; performers, makers, musicians, techies and others -under the Artistic Direction of Jessica Rost.
Jessica discovered the world of Outdoor Arts over eight years ago. The amazing collaborations, the challenges of outdoor sites and the crossover of art forms was exciting and it has inspired many collaborations between Jessica and her Associates.
Rost Productions Ltd. provides opportunities for collaborators and partners to come together and to continue developing as Producers, Performers and as Directors of Street Theatre.
"Thank you so much for your hard work and commitment as we battled the wind and rain to stage a really memorable night for Milton Keynes' birthday. There's always things we'd change if we were doing it all again, of course, but the feedback has been very good, from both clients and audiences, with the response on social media overwhelmingly positive. And we reached audiences that were truly reflective of Milton Keynes population as a whole, which is one of the strengths of working in the public realm. The Futurists was one of the highlights of the Fire Garden."

Liz Pugh, Creative Producer – Walk the Plank, Nov 2017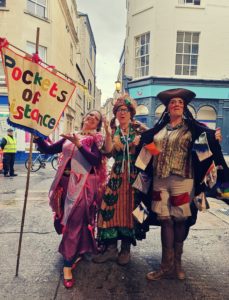 Last year saw many exciting projects and new work on the go at Rost Productions Ltd. including: 'Pockets of Resistance'
You can find out more about current productions, availability and booking information here
As well as making and touring new work Rost Productions has been working on an R&D project, 'Star Stories', with Vagabondi Puppets and in collaboration with Nick Garnett to present the Annual Daydream Harvest . Unfortunately, this year, due to Covid-19, much of this touring work has been put on hold.
In 2018 our collaborations led to the devising and creation of: 'The Annual Steam Hammer Rally and Picnic' which was created especially for the SpareParts festivals in the North West and is a perambulating show based on 'Art bikes'.
Artistic Director, Jessica Rost also created 'Peddlers Pack: so many things you never saw before', another perambulating show, (still available for bookings) which offers  audiences one to one interactions, human connections and an alternative to the common place commercial experiences! The show was commissioned by Pedalling Culture, Milton Keynes.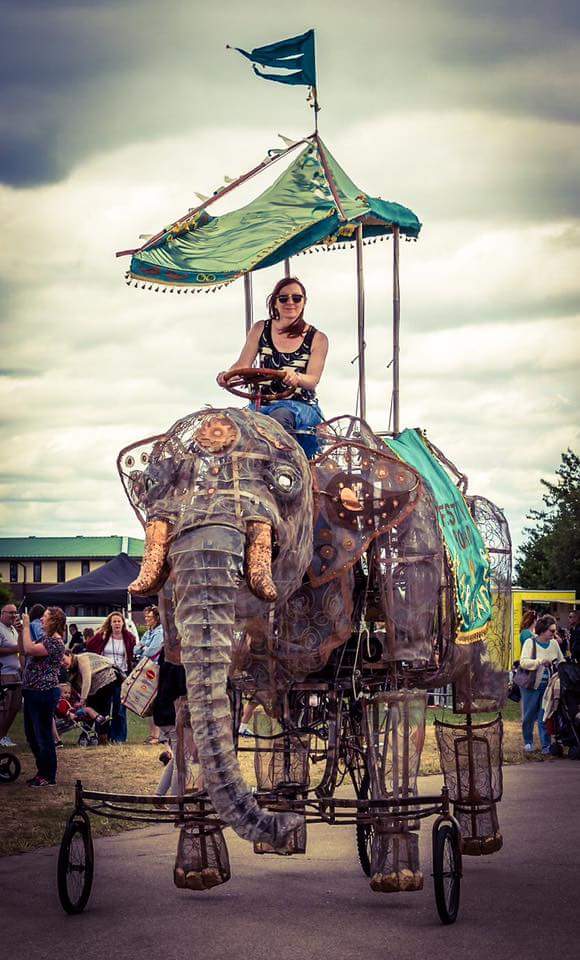 Between 2012-2017 as Artistic Director, Jessica devised and directed many touring shows for the Milton Keynes based company, Festive Road, including:  'The Futurists' which toured in the North West in 2017, 'Best Company', which was part of WW1 commemorations Jun-Sept 2015 and a 'green' show called 'Fair Play' which used cycle power for sound and projection and which toured primary schools across SE England in 2013.
She directed several  outdoor events including 'Paraffinalia', an annual winter festival in Milton Keynes, held three years consecutively between 2014-2016 and centered around a large scale puppet spectacle which she devised, created and produced.
Jessica received the London 2012 Inspire Mark project for the touring show 'Brewing Up', a visual and musical experiment, created for Festive Road which saw collaborations with many arts organisations, artists and schools across the SE England and which celebrated the great English obsession with drinking tea.
"Jessica is a truly creative artist.  Undaunted by the scale of a challenge, she always delivers extraordinary work that delights, amuses and engages audiences with surprising moments.  We have commissioned her to lead and work on many making projects as Director of Festive Road and worked closely with her as she led on the development of the official Fringe for IF: Milton Keynes International Festival.  She works tirelessly to achieve what she sets out to do and is always willing to explore new ideas with partners."

Monica Ferguson, Chief Executive & Artistic Director, The Stables, May 2018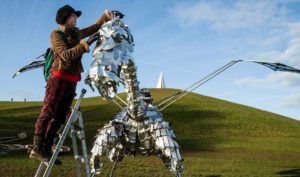 Jessica was the Artistic Director of Milton Keynes Festival Fringe, 2012 -2017; a vibrant and engaging, fringe arts festival showcasing some of the most pioneering and experimental work in outdoor arts, immersive theatre, visual arts, performance, comedy, music and dance! During this time she produced, commissioned and curated numerous outdoor theatre pieces, interventions and installations, providing a platform for many emerging artists.
Previously she curated public exhibition spaces in Central Milton Keynes for Fringemk:Westbury, now Westbury Arts Centre. She also developed and ran three International artist residency programmes and Biannual International Artist Symposia/workshops at Westbury Arts Centre in Milton Keynes.
You can see examples of Jessica's Performance and Outdoor Theatre work here