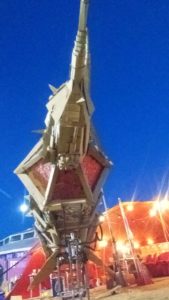 During the summer of 2018 I delivered some 'high octane' fueled creative engagement work for Vodafone UK, as they prepared to launch their Gigafast 1000 super fast broadband in various places around the UK, including in Milton Keynes.
The work began last July at IF: Milton Keynes International Festival 2018, where sponsors of the festival, Vodafone, were launching their new fibre broadband.
I provided 6 days  of activity, bringing in collaborators to deliver cardboard rocket building, space costumes, movement  and to create an 'out of this world' soundscape with the young participants.
Working mainly with my colleague Nick Garnett to create the rocket, we facilitated activity for over 100 children. The spacey installation went on show at MK Central Library for one month after the festival for people to see and explore!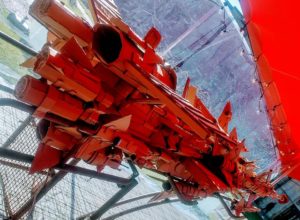 Vodafone were so happy with the results and the interest that the installation created, that they asked for the rocket to be reconstructed at their HQ in Newbury, where it was on display and admired for a further month.
In October last year, I was asked to provide more 'high octane imagination' activity -this time in Peterborough. Nick and I spent a week there, under the shadow of the great cathedral, creating the Gigafast 1000, mark 2.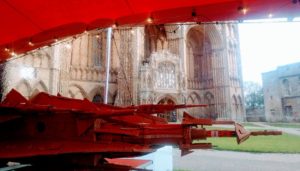 It was very inspiring to be making a rocket just outside Peterborough Cathedral whist inside, Tim Peake's landing capsule was on display!
I'm hoping that we'll get the chance to create the Gigafast 1000, mark 3 soon… so watch this space!!