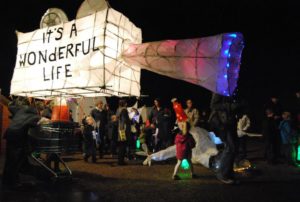 Participatory Arts practice and work as artists in the community, is all about allowing participants to become collaborators.
This June Rost Productions had an amazing week working with with 200 year 7's at the highly creative Mark Rutherford School in Bedford – A Culture Challenge project using recycling and centered around the story of the 'Tin Forest'.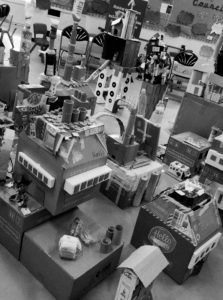 Most recently we have been involved in an exciting pilot project which is about employability skills. A new initiative. Engage2Action, is linking businesses, through creative curriculum projects, with schools to raise aspirations of children and young people.
In 2018 Rost Productions worked with several community groups in South Manchester to create large scale, cycle-driven, processional structures for Manchester Day Parade with the theme 'Word on the Street'!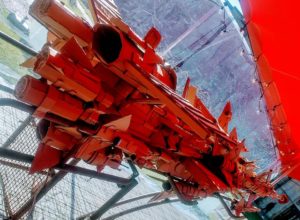 And we also provided an exciting participatory project in the Vodafone Gigatent at MK International Festival, where collaborators, Nick Garnett and Jessica Rost built a big cardboard rocket and sound scape with young people. The spacey installation went on show at MK Central Library for one month after the festival for people to see and explore! Following on from this we provided further engagement work for Vodafone at Peterborough and elsewhere. You can read more here.
Jessica Rost's Participatory Arts experience:
I've had over 20 years of experience working with people in participatory arts, both as a freelance artist and as a project and events manager.  Community Arts has run along side my practice since I first started out.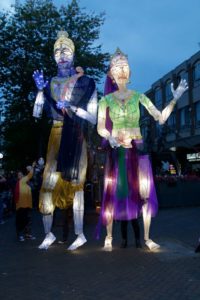 After graduating as a Fine Artist I began working as a community artist and in 2005 founded the Community Interest Company, Festive Road, which at the time was a collective of freelance artists, all working on participatory projects whilst continuing with their own studio practices.

Participation and engagement in the Arts is very important to me. I believe that art should be accessible and relevant to people of all ages and abilities; also that 'artists' have the power, even a responsibility, to 'fix' things. I have initiated many projects which focus on social issues or bring art out of traditional spaces, into unusual or 'non-traditional' spaces -often engaging audiences who wouldn't normally attend or take part in the arts.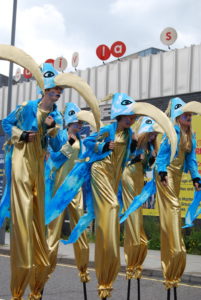 "Just to say a massive thank you again for the weekend!  We've had great feedback from our visitors and especially loved that they were able to get involved in so many ways.  The outcomes were so engaging and we do hope to be able to use part of them again in some way.  It was great to work with you and we'd love to find an opportunity to do again!"

Natalie Wallace, The Roald Dahl Museum and Story Centre, Aug 2017
I believe that the best engagement projects start with good partnerships; respecting the needs of all the individuals involved. Participation has the ability to unite people: animating towns and communities, bringing places to life, building confidence and breaking down cultural, economic and geographical boundaries. 

I managed both the participatory work of Festive Road and also the creative direction for many years (2005-2018), organising training programmes, outreach programmes and fundraising. And I have a vast experience of project managing community events and projects that have employed many freelance artists and a range of community groups, schools and other partners like local councils and housing associations.

I have worked with a huge range of people on projects to create: costumes, puppets, murals, sculptures, community events, films, paintings, performance, lanterns, environmental work and much more. I worked as a Creative Agent for the Creative Partnerships scheme, 2008-2011, and also as a practitioner for UK Centre for Carnival Arts in Luton, managing and brokering many successful projects between schools and practitioners in Oxfordshire and Bedfordshire. Previously I was a lead artist for a re-generation project in Reading and had undertaken various arts partnership projects and commissions in Milton Keynes and Northamptonshire.