Pockets of Resistance:
Walkabout show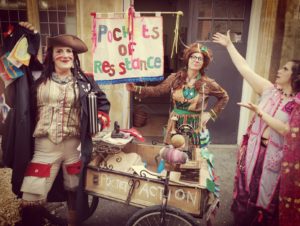 It's the 21st Century and we ladies are fed up! We want pockets big and wide on the back of our jeans and the front. The guys want more pockets too! We want pockets in every dress we own. We want pockets in shirts and skirts and jackets and any possible garment where one will fit.
But most of all, we want to share pockets with everyone, so we are starting a resistance; 'Pockets of Resistance'!  You can be part of the resistance!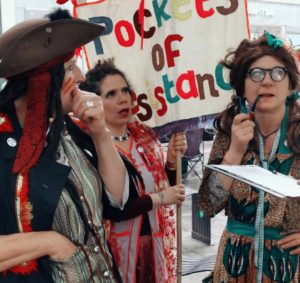 Pockets Mean Pockets!
Meet 'Lucy Last Chance', 'Anna Morphism' and 'Lost Habitat', thoroughly forward thinking ladies, who will enlighten, inform and entertain you whilst marching and generally creating a pop-up occupation in a public space. During the show the characters lovingly sew pockets  onto peoples garment while they sing their songs of resistance.
These three liberated characters have lots of pre-made pockets up their sleeves, all beautifully hand-stitched by people who love to sew and just want to spread the word -that pockets are cool! Together we can change the world! Join the Pockets of Resistance, say 'no' to fake pockets now!
Each interaction is personal- audience members may be invited to sew on extras, choose buttons and trims etc…We aim to sew around 20-30  pockets onto audience members per day, (depending on audience numbers). No specific tech requirements.

Booking information: 'Pockets of Resistance' is available for events, openings and festivals this year. It is a walkabout show with three roving costumed characters. Each  walkabout  is around 30 minutes in duration and the walkabout can be repeated up to 3 times per day (depending on travel and start times).
There is also the potential for a public engagement project to run with the show with artists leading pocket sewing, creating and  singing marching songs, as well as movement and dance workshop. All the participatory activity would culminate in a Pocketist March!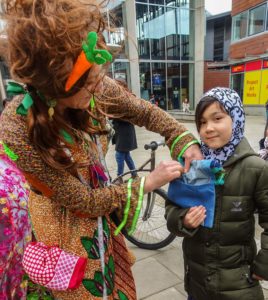 For costs, availability and any further booking information please email: jessica@jessicarost.co.uk.