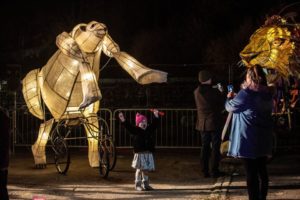 Eva the Polar Bear: Walkabout Puppet
Meet Eva, originally commissioned and co-owned by  Handmade Parade, this beautiful Polar Bear puppet was created for Lamplighter Festival. Animated by 1-2 puppeteers, she is suitable for both night time and day time Outdoor Events and Festivals.
Eva is very interactive and loves meeting people. Her legs move mechanically when she walks and when she gets excited she stands up on her hind legs!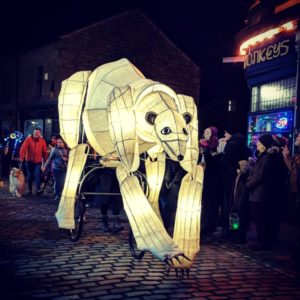 Booking information: 'Eva the Polar Bear' is a walkabout puppet operated by 2 puppeteers. Each  walkabout  is around 30 minutes in duration and the walkabout can be repeated up to 4 times per day (depending on travel and start times). Set up and de-rig is around 30-40 minutes. Eva, arrives in a high-top van which requires parking space. At night she is illuminated from within using battery power and has no specific tech requirements.
For costs, availability and any further booking information please contact Handmade Parade
Or email Rost Productions Ltd: jessica@jessicarost.co.uk