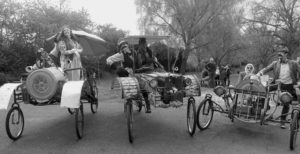 A new highly interactive outdoor perambulating show -a collaboration between Jessica Rost and Nick Garnett – 'The Annual Steam Hammer Rally and Picnic' is a participatory adventure celebrating the resourcefulness and 'can do' spirit of the long distance vintage racing car rally drivers.
The show depicts an epic yearly Rally which sees the intrepid members of the thoroughly forward thinking Steam Hammer Racing Club put their foot to the floor, with expedience and cunning, as they race against each other around a seemingly impossible circuit.
Expect to see them racing by, although they may need to stop and make major mechanical repairs and speed enhancing alterations. Indeed, they may well need your help too: these aristocrats don't like to get their hands into the oily side of motoring. They will also undoubtedly wish to take tea and partake in the odd picnic with the natives, (part of the Annual Rally tradition).
The show features three pedal powered cars with specially created in-car sound tracks by Stuart Moore. The cars were built by Jessica Rost and Nick Garnett from discarded household objects, bicycle parts and other reclaimed materials; each car having a girl and boy crew but with an interesting twist and plenty of shenanigans to go with! 
The show has been performed at the SpareParts, acceleration themed festivals 2018: Sandbach Festival of Transport, trAction Festival Crewe and Fleetwood Festival of Transport.