Photograph by Orrin Saint Pierre
During lock-down and in self-isolation, many people have had time to reflect on what is truly of value to them.
I began by asking the question: Is bathing valid?  But more broadly, this was a continuation of previous work which explored breathing spaces: – pauses – profound moments, activities and encounters which we experience daily, but which have no monetary value.
Living off-grid has made me more acutely aware of how dependent we are, and how caught up we are, in systems which perpetuate inequality, unsustainable production and unnecessary consumption. Our time is monetised, and bathing – (like 'time wasting ' and daydreaming), is treated as non-essential, a luxury.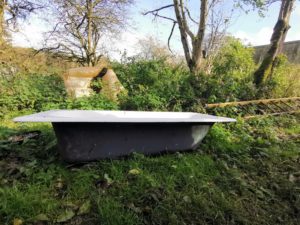 I decided to make an art practice from the process of taking time to bathe.  I began by obtaining a cast iron bath which could be mounted on a mobile frame and wheeled over a wood fire. Whilst making the initial frame, I realised that the weight of the cast iron bath would be a challenge to mobilise, and so began to create multiple bathing installations, all of which, explored the immersive qualities of bathing in various outdoor locations.
The off-grid aspect of my 'taking a bath' became important to the project: these bathing experiences are mobile, independent, not 'plumbed in'. Each bath-time has a sound recording of me humming – a dialogue with a moment, a specific place, and a particular bathing experience. You can see the bath meditation series here.
Alongside the making and bathing, I also collected written contributions from people around  the theme of  important non-monetary, embodiment experiences.  I have compiled these into a small companion publication.
The latest bath is one that I fabricated myself from steel sheeting and mounted onto a mobile trolley. I created the bath shape in cardboard first before cutting and welding the sheets together. I built the trolley from discarded bicycles and other recycled steel frames. The mobile bath has a gas water heater which runs off camping gas, and the water is circulated using battery powered pumps. The whole system can be wheeled into any location and heated up ready for bathing within 20 minutes. You can see the making of the mobile bath in the images below.